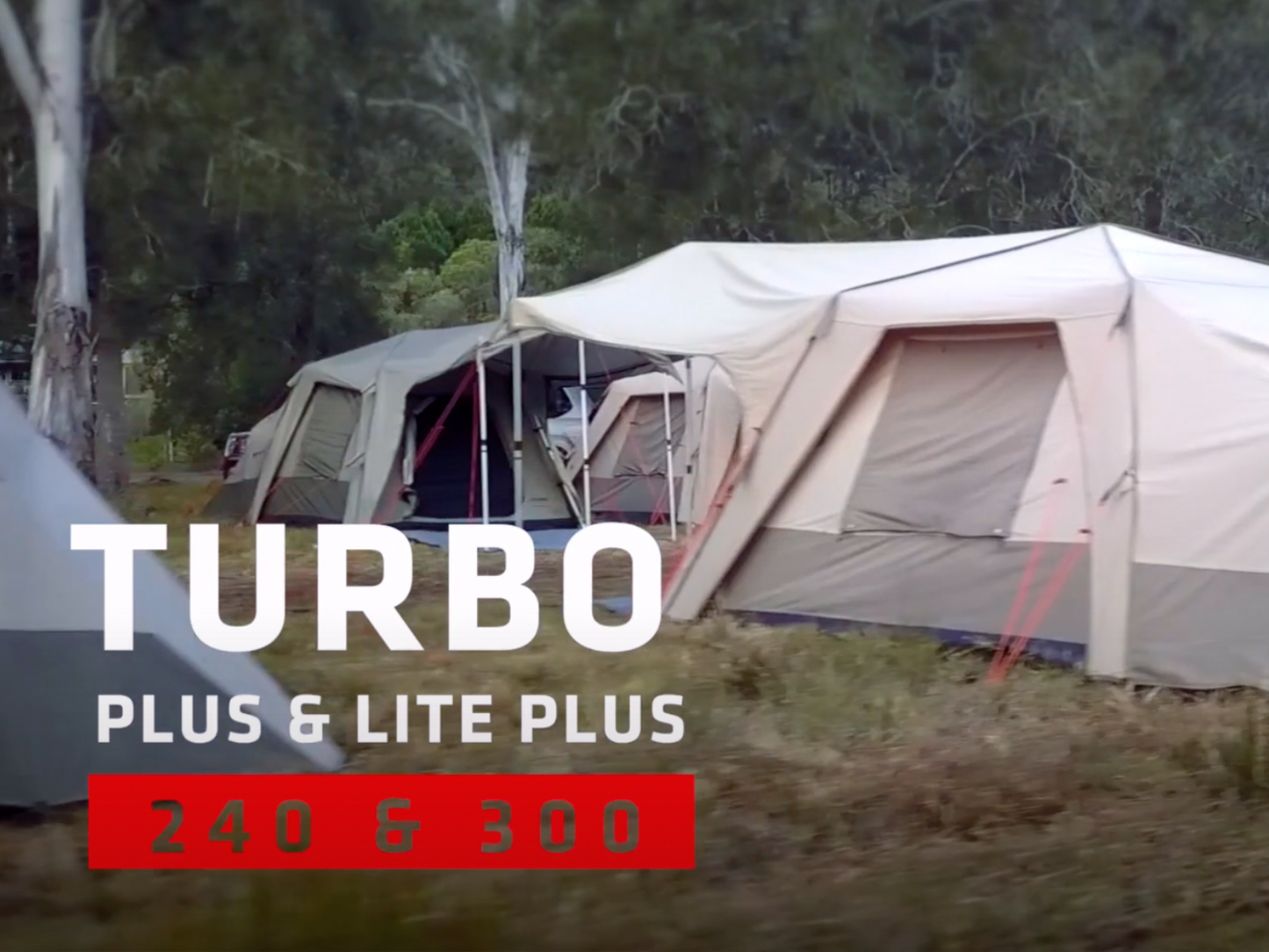 PITCHING INSTRUCTIONS
Choose a flat site, clear of any sharp sticks or objects. Unclip the strap from around the tent, stand the bundle on its end and unclip the top strap that holds the frame and poles together. Unfold and straighten the lower legs of the frame and they will lock into place. Pull the corners out so the floor is flat, close the front door and peg the corners (please ensure you complete this step prior to pitching). Open the front door and step inside the tent to lift the center hub and pop the frame into place.
Assemble the two straight bedroom pole parts. At the rear of the tent, thread the two curved poles through the pole sleeve and join them together in the middle. Attach a two section straight pole at each end, moving the feet next to the corner poles and pegging out the rear of the tent. The inner tent is now pitched. Unroll the fly making sure the awning is at the front, and pull over the frame. Clip the corners of the fly to the matching clips on the feet. Using the velcro loops, secure it to the frame and peg the corners.
Assemble the two-part Ridge Pole and three-part Awning Pole. Take the Ridge Pole and above the front door, place the curved spigot into the hole at the front of the hub. Take the Awning Pole and thread the spigot through the hole in your awning Ridge Pole and the eyelet in the centre front of the awning. Peg the centre awning guy rope and match the height of the awning side poles to the height of the frame. Thread the spigots at the corner eyelets, unravel and peg the guy ropes, then adjust to make the tent taut.
PACK-DOWN INSTRUCTIONS
Unpeg the guy ropes, twist the awning poles to release and collapse them for packing. Unclip and remove the fly from inside the tent. Pull down the handle in the center of the roof, using your other hand to catch the frame as it pops down. Press the button on the lower knuckles of the leg poles to release and fold the leg poles to the center of the tent.
Thread the webbing loop over the knuckles and wrap the strap around the bundle to hold it together. Organize the folds neatly into triangles - fold to one side and roll the tent tightly around the poles and secure it with the strap. We recommend the poles and pegs go in the bag first followed by the tent and the fly.