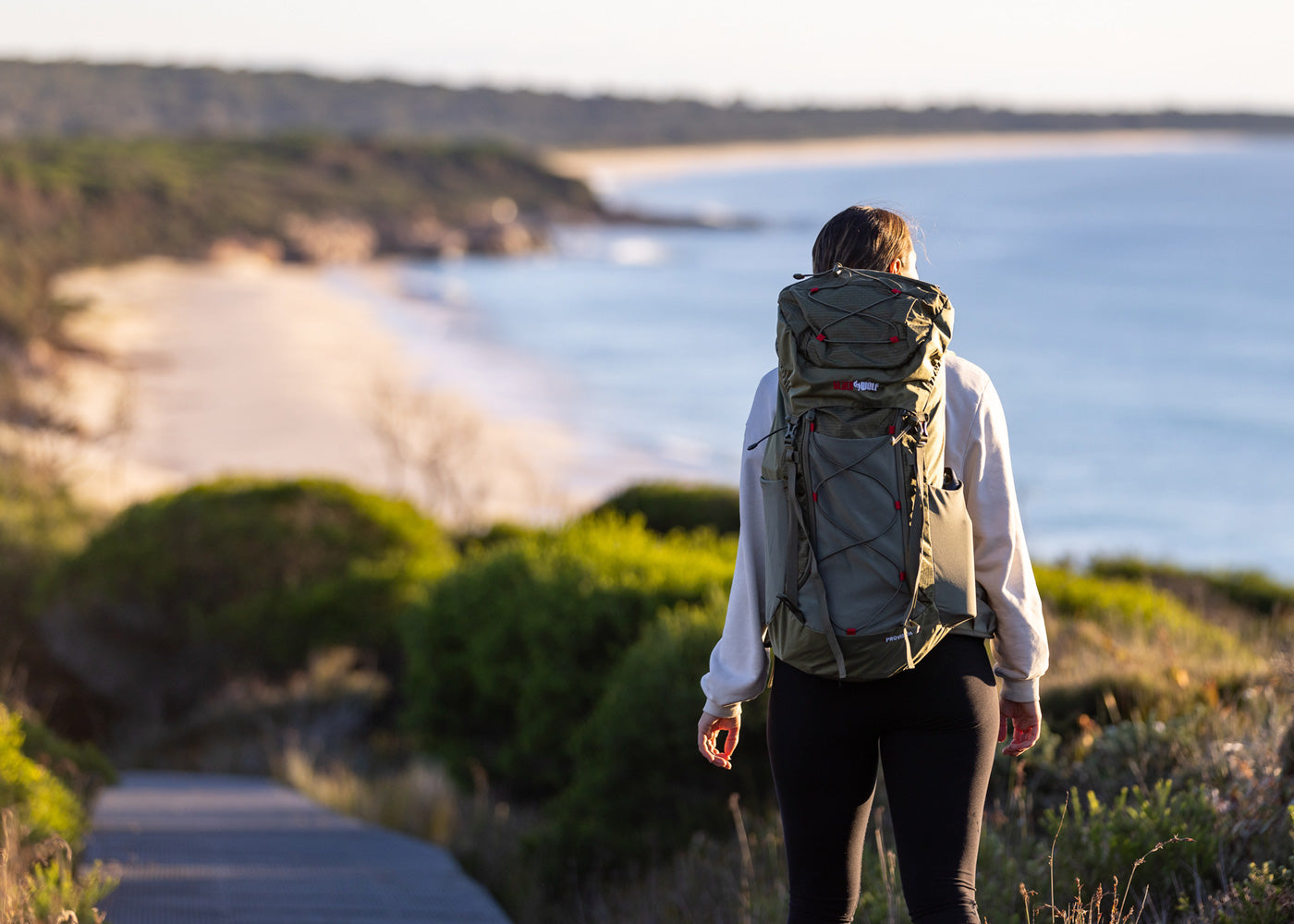 It's easy to jump in the car or book a flight to see the best of Australia, but we think it's just as fun to see our diverse and unique landscapes with your own two feet. Australia has listed out the most extraordinary walks and with the weather warming up, there's no better time to get back out there! Some of the highlights include:
Fraser Island Great Walk
Explore the world's largest sand island on foot and be rewarded with beautiful landscapes, stunning scenery with a wonderful heritage. Also known as K'gari Great Walk, this landscapes takes up to 6-8 days to complete with the trekking distance of 90km, however shorter route such as the Lake Wabby Walk can be more suitable to those who are short on time and prefer an easy strolls through the thick mangrove, vast sand dunes and emerald-liked lakes. More details can be found here.
The Larapinta Trail
Regarded as "Australia's Most Epic Outback Trek", by Australia, the Larapinta trail follows the spine of the rugged West MacDonnell Ranges in the Northern Territory. The Trail will take you through land that is sacred to the Arrernte (pronounced Ah-runda) Aboriginal people; who have lived in this area since the Dreamtime. It stretches out 223km long and can take up to 12-24 days to complete. Perfect for bushwalking and trekking lovers. Recommended period to trek by professionals is between April to August due to high levels of UV exposure and possible extreme weather conditions during summer time. More details can be found here.
The Great Ocean Walk
Considered to be Australia's premier walking trail, The Great Ocean Walk stretches over 100km that begins from Apollo Bay towards the Twelve Apostles. It can take up 8-10 days to complete however, shorter trails are available for those who are looking for a more relaxing stroll amongst majestic eucalyptus forest, rugged cliffs with breathtaking ocean views, beautiful faunas and floras. Weather conditions can vary however, summer is a peak season for tourists and walkers alike. If you prefer less crowd, you might just have the track all to yourself during spring, autumn or even sunny winter days. More details can be found here.
Bibbulmun Track
The track is only available to walkers and passes through the scenic southwest region of South Australia. It stretches 1000km from Kalamunda to the historic town of Albany. It can take up to 8 weeks to complete however, shorter trails are available. What sets the Bibbulmun track apart from others is forests of karri trees which cannot be found nowhere else in other part of the globe. Recommended trek period is autumn, winter and spring (wildflower season). Perfect for those who enjoys long distance trail walks. More details can be found here.
Australian Alps Walking Track
Located in The Australian Alp, Victoria, this is a long-distance track that stretches over 655km from Walhalla, Victoria towards Tharwa, Canberra. It can take up 5- 8 weeks to complete however, also features shorter walking track. Features Australia's finest Alpine's national parks with tall snow gum woodlands and sites with rich histories. Weather conditions can be unpredictable so be prepared for wet and windy conditions. This walking track are recommended for those who have high and developed navigational skills especially through the wilderness. If you are planning to walk the whole track, make sure that you have all the necessities planned out as the trail do not pass any towns. More details can be found here.
BlackWolf | Top Hiking Pack Picks
Whether you opt for the long distance or the shorter distance walk, a durable, well-made and strong hiking pack is needed to help you be prepared for whatever situation that may be thrown at you. While you're out there exploring the trails, make sure to share your adventures with us using the hashtag #blackwolfoutdoors or tag us @blackwolf_australia.