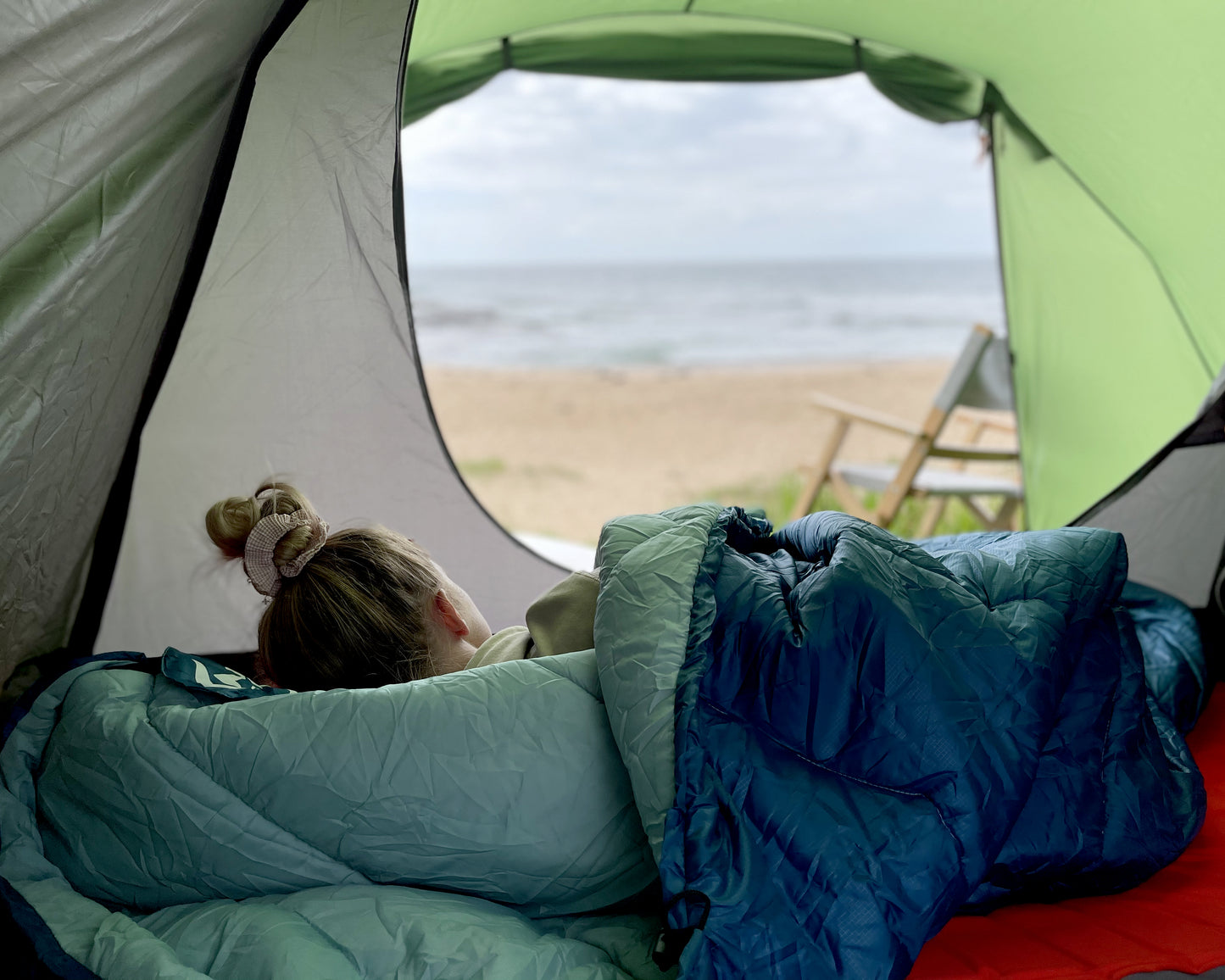 Making the decision between down or synthetic fill needs to be considered carefully as there are a lot of variables that will impact your decision.
DOWN FILL
Down filled sleeping bags are generally viewed as the premium fill for hiking or camping enthusiasts as they offer the best warmth-to-weight ratios. They are considered an investment as generally down filled sleeping bags are more expensive than synthetic fill.
It's important to recognise that the higher the loft of your down sleeping bag, the more efficient it will be in gaining and retaining warmth. The benefits of a higher loft are that less down is required to achieve the same warmth as a lower loft counterpart, and the higher loft will be more compressible.
Design features and placement of baffles also contribute to the effectiveness of the down as this controls where the down is placed to avoid having any cold spots.
SYNTHETIC FILL
While down-filled sleeping bags are considered the premium fill there is one downside that can sway hikers to a synthetic fill, that they don't perform well in wet conditions.
Synthetic fill sleeping bags have become more technical over time and are the perfect alternative if you know there's a chance your sleeping bag might get wet. Our BlackWolf sleeping bags contain a range of synthetic fills, from high quality Clusterloft which is a premium down alternative, through to Powerloft and bonded fibres.
Generally, synthetic fill bags are more affordable than down fill and if you don't need a lightweight sleeping bag, a synthetic fill may suit your adventure perfectly.
Other Sleeping Bag features: 
Sleeping bag shells: The outer fabric of the sleeping bag, which is generally made from either a durable Polyester or Nylon, has a water repellent (DWR) finish to protect the inside from any moisture.
Sleeping bag hood: If the sleeping bag has a hood it will be snug-fitting to keep the bag warmer.